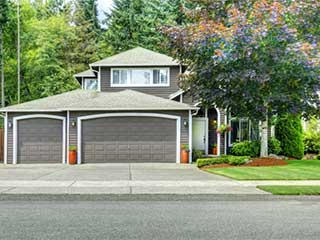 The web has shortened the distances and apart from feeding people with information, it gives them the opportunity to do many things without getting up from their chair. As a result, many professionals have transformed the garage of their house into an office in order to cut down on transportation and rental expenses and stop wasting time. In this case, Garage Door Repair Lombard service becomes even more important because you will be spending most of your time in your garage and there are definitely some things, which could change, to make your life better, safer and easier.
Keep your office away from the mechanism
It is wise to place your office or desk of family activities away from the mechanism because any trouble with the springs or other garage door parts may cause you injuries or damage your equipment. Besides, when it is time for service and you will want to replace the damaged garage door tracks, you won't have to move your desk or upset your office corner.
Keep the noise down
When you spend too much time in one place working, you can't stand loud noises and, therefore, your chain drive garage door opener and you won't get along. You might need to open and close the door several times each time apart from the times your family members will also use it as well. That's why the belt drive motor would be a much better and more silent solution.
The importance of maintenance
The mechanism is certainly responsible for the protection of the car, valuables and your entire house, but when you are transforming your garage into an office or a place where your kids spend their free time, you want to be sure that they are completely safe as well as your office documents. Regular garage door maintenance is the only guarantee that the mechanism will work properly and provide the required protection.
Choose glass doors
If you are thinking about garage door replacement, you should consider getting glass doors. They will make a great difference to your everyday life in the garage, reduce the cost on energy due to the constant sunlight and warmth, and will make your property the most beautiful one in the entire area. There are many types of glass garage doors, which you can find at the likes of Garage Door Repair Lombard .