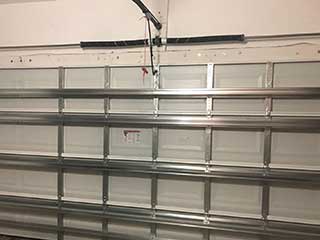 The problem with garage door springs is that they break. Well, everything breaks eventually, but the springs are the component of an automatic garage door system that almost always breaks first. There are reasons for this. The weight of the garage door is always pressing down on the springs, and when you open the door they need to push up against it. Even a good spring won't last more than twelve to fourteen years of daily use and will need replacement sooner or later. Here at Garage Door Repair Lombard, we replace broken springs all over the city and surrounding area, with emergency same-day services. Even if a spring breaks down at the worst possible moment, we'll have you on the road again in just hours – if not sooner!
Can a Garage Door Work With Broken Springs?
In some cases, especially with lighter doors and more powerful motors, an automatic garage door with a broken spring can still open. You should avoid doing it if at all possible, though! The important thing to remember is that the springs don't actually open the garage door itself. They just counteract the door's weight so that the opener and lift cables can raise it. These components aren't meant to deal with the door's weight on their own, and making them lift it without the springs will damage them. These components are much more expensive, and their failure can cause dangerous accidents during door opening. If you have a broken garage door spring, replace it as soon as possible, and avoid touching the door until then unless it's really an emergency.
Expert Garage Door Spring Replacement In Lombard
Unfortunately, replacing a broken garage door spring is a tricky operation, and it can be very dangerous if you haven't had proper training. Those springs operate at very high pressure, and thousands of serious injuries occur every year because of amateur handling attempts. Luckily for homeowners around the Lombard area, there are always highly experienced professionals available at short notice for low prices. Our team's been doing this for more than a decade now, and if you call our emergency spring repair hotline you'll have them replacing your springs within hours. Our broken spring replacement services are available year-round, including weekends and holidays, and we provide tune-ups and repairs as well. Get in touch to get help ASAP!