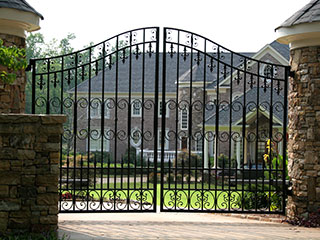 Keeping your living space properly secure should be the priority of any homeowner, which makes it essential to keep close tabs on the condition of your gate. The condition of your gates can deteriorate over time, including situations brought on by ageing, harsh weather conditions, a lack of maintenance and accidents. Whatever the reason, if you need assistance with gate repairs at your home, give one of our servicemen a call today to find out more about our related services.
Restoring Rotten and Rusted Gates
Driveway gates may need repairs once they have been used for some time. Since they are constantly exposed to the ravages of the weather, they may rot or rust after a while. This will not only leave them as a major eyesore, but will also lessen the effectiveness of your home security. Contact us today to find out more about having your rotten or rusted gate expertly restored.
Replacing Gate Openers
Automated gates definitely make life easier in terms of securing and accessing your home, though they consist of electronic components that may be damaged due to the environment they operate in. Galvanic corrosion and rust are reasons why openers fail, which is why our technicians can provide you with gate motor repairs whenever you need them.
Repairing Hinges
Your hinges are constantly holding up the substantial weight of your gate, which will put enough pressure on them over time to weaken their strength. On top of this, rust and corrosion, old age and minor accidents are also common reasons why they may fail. If your hinge welding needs repairs, contact one of our technicians to find out more about how we can assist you with the matter.
Contact us Today for Details on Having your Gate Repaired
If you would like further information on the many gate repair services that our team of skilled and experienced technicians can provide, contact us at Garage Door Repair Lombard today to speak with a consultant for further details on restorations, opener assistance and hinge repairs.
Our team can also take care of:
Gate Exit Sensor Installation