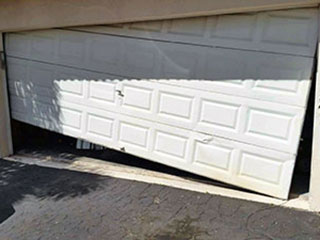 Why Won't My Door Move?
A garage door relies on several parts to move. Broken springs may inhibit the movement by losing the counterbalance necessary for the weight of the door. Your door moves on rollers and usually with a trolley, and both of those things are on tracks. Bent tracks, rollers or trolleys coming off the tracks can jam the door sufficiently to keep it from moving one way or the other. If you can manually open your door, but nothing happens when you push the button, you may be dealing with a burned out motor. Sometimes the problem can compound itself if the door continues to try to open or shut and cause more issues than you had in the first place. In this case you may wind up needing more service calls for your garage door repair than you might have initially. Alternatively, if a spring or cable has snapped, the door may have fallen shut and be unable to open due to the sheer weight. Let us diagnose the issue and resolve it for you so that you can get back to operating your door with ease.
Why Won't My Door Stop Moving?
Is your door haunted? Or is it just sending the wrong signals? A malfunctioning close limit switch can mean that your door fails to recognize the appropriate places to turn the motor on and off. This can manifest as a door that closes and immediately opens, a door that closes partway and reverses, or a door that only closes partway. It can be frustrating but not to worry. Our technicians can easily fix your switch and make your door obey you once again. We are the leading name in garage door repair services, with years of experience in service and diagnostics.
Experienced Repair Technicians
Repairing a garage door can be a tricky process. Let the experienced staff at Garage Door Repair Lombard handle the repair and replacement of your broken pieces. Call us today to set up an appointment.
Looking for more? We also offer:
Garage Door Opener Track Maintenance
New Opener Remotes & Clickers
Galvanized Torsion Spring Installation
Track Replacement & Repair