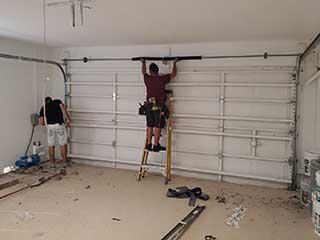 Fixing problems at your leisure isn't something you can always do. Some things, like broken garage door springs, for example, need an immediate solution. Otherwise, your car can get stuck or someone could get hurt by a garage door with no spring. To provide local homeowners the best service possible, we offer Lombard emergency garage door repairs every single day. Got a problem you weren't expecting? Leave it to our technical team to apply a quick and affordable solution right away.
My Garage Door Spring Broke
Now what? You might ask yourself. Well, the answer is simple – just call! With a same-day broken garage door spring repair service provided every week, we help countless customers deal with exactly this type of problem on the regular. A broken garage door spring presents a real difficulty, and it can prove far more dangerous to replace than some might expect. Of course, with our long years of experience, replacing the spring of your garage door will take very little time. We come to every service call with different springs to replace any broken ones. With safe solutions provided, our Lombard garage door spring repair services help customers get back to their plans in no time.
Opener Repairs Needed – Troubleshooting Solutions
Sometimes problems present themselves in unclear ways. If your garage door opener isn't working, for example, it may not always become immediately obvious why. The opener has a motor gear, as well as a drive system, but also electrical wires and an electronic logic board. Not to mention, photo-eye sensors. Any one of these can prove the root of the trouble. With quick garage door opener repair and troubleshooting services provided for Lombard and nearby areas, the fix is not too far away. When you see the opener can't lift the door or is reversing, let our local professionals know and get the problem solved very quickly.
Your No.1 Garage Door Repair Service Near Lombard
It's never fun to have to deal with some type of problem all of a sudden. But here's the good news – you won't have to deal with it for long! With Garage Door Repair Lombard providing same-day emergency solutions every single day, you always have options when things break down. Got a broken spring you need us to replace? Sure thing! Something went wrong with the garage door opener and you need troubleshooting or repairs? Leave it to our technicians! Any issue that crops up our experts can handle. For quick and affordable garage door repairs in the Lombard area, all you need is to give us a call!